What should we look for in an AAC app?
The primary goal of any AAC system is to develop the communication skills of people with complex communication needs.
Communication Autonomy
The AAC system we choose for our communicators should support their communication autonomy. For this to happen, it should support SNUG, which is Spontaneous Novel Utterance Generation. This allows the communicator to say whatever they want to, whenever they want to.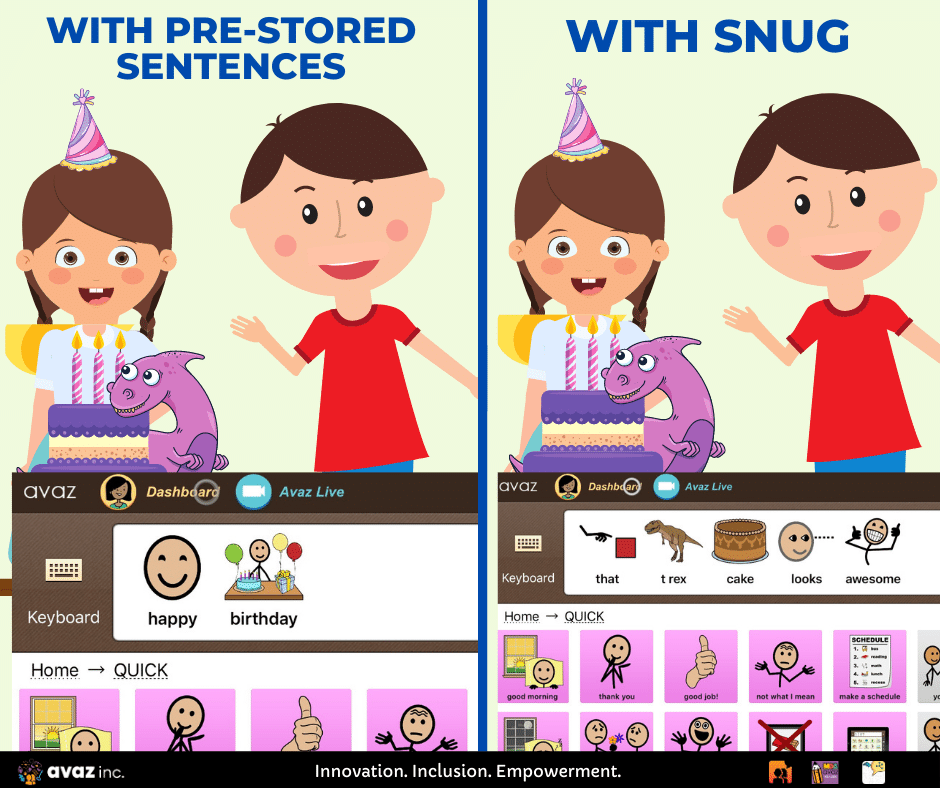 Communicative Purposes
AAC systems should support all communicative functions.
So, it should have an extensive vocabulry that enables communicators to tell a joke, share information, or for all other purposes of communication.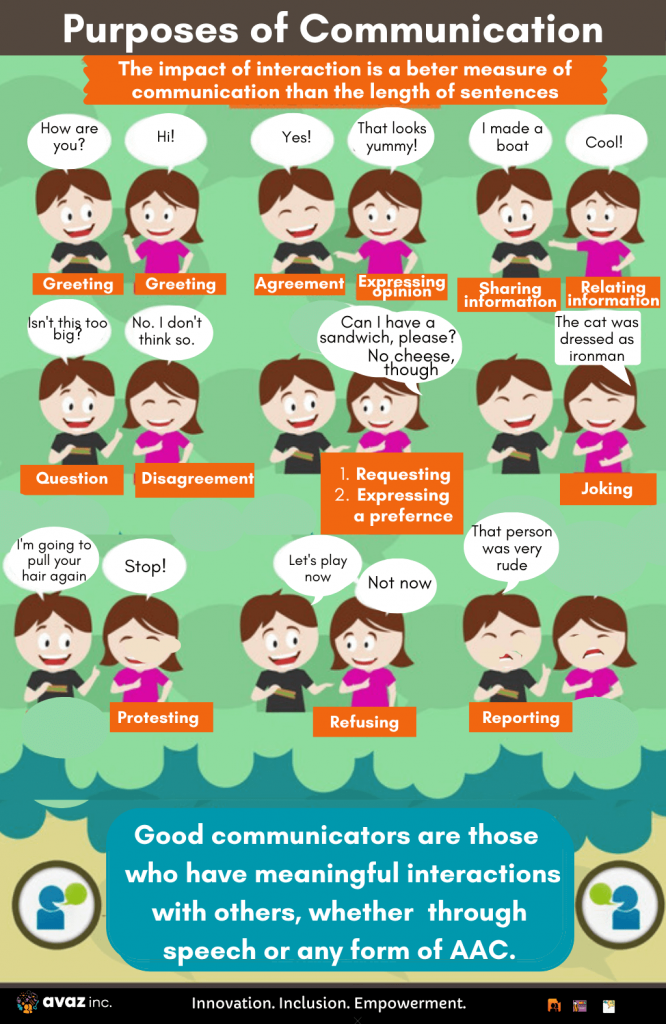 AAC systems can do much more. They can also support language acquisition and literacy development.
Every feature included in Avaz AAC app is the result of meticulous research and invaluable inputs from renowned experts and experienced professionals in the field of AAC and assistive technology.
Features of Avaz AAC In a Nutshell

The most common and heartwarming feedback we receive about Avaz AAC is how user friendly it is. Effortless communication is definitely one of the app's end goals. The app's design and layout are also focussed on providing communication autonomy. Here is a brief look at some of the exceptional features of Avaz AAC and how they arm AAC users with the power to communicate:
Customizing Avaz is simple and uncomplicated. You can add multiple words and images at one go (in picture mode). Once you type in all the words to add, the app adds relevant icons with respective images, color code automatically in no time!
Adding images to an AAC app has never been easier. You can search the web for copyright-free images from within the app.
Powerful Keyboard Mode
Picture support for Text Mode: This helps users make a smooth transition from pictures to text.
Phonetic Match: This feature helps early language learners and those with language deficits by performing a spell check on misspelt words.
Low Tech Version of App Vocabulary (as a PDF)
You can take a printout of the entire Avaz vocabulary that can serve as a low-tech option for the user. This ensures that the user is not left without a voice in environments where high tech AAC use is not feasible.
Comprehensive Communication Partner Training
Avaz Dashboard has a training module designed to help caregivers become fluent with the app. It teaches them therapist-recommended strategies for communication, and suggests simple practical ideas that they could use to model words across different activities throughout the day.
5.Extensive Vocabulary for Boundless Expression
Avaz offers three levels of inbuilt vocabulary sets (levels 1,2 and 3) that can be completely customized, depending on the user's needs. The vocabulary sets are pragmatically organized – to facilitate a wide range of pragmatic communication and expression such as greetings, expressing an opinion, asking a question, giving a response, commenting, protesting, etc.
6. Recent Updates
Avaz AAC app now displays saved sentences that are assigned to keys so that the user can easily load these saved sentences.This ensures quick access to frequently used sentences and encourages users to employ them in common scenarios. The app has also included an auto clear option so that messages get cleared from the message box after they are spoken out. This speeds up communication without the user having to manually delete previous messages before constructing a new one. Avaz AAC app is now compatible with several more messaging and social media platforms including Text, Email, Facebook, Twitter, Instagram, Whatsapp etc.
There has been much anticipation among the AAC community for the availability of Avaz AAC app on iPhones. Several SLPs and users had expressed how they would love to have such a full-featured app on a smaller device. The Avaz Inc. team is thrilled to have fulfilled your requests and is grateful for your overwhelming enthusiasm for the iPhone app. As always, your unwavering support motivates us to do more to make communication a reality for all.