Autism Acceptance Month Discount
With the beginning of this Autism Acceptance Month, we are happy to inform you that we have extended our discount period!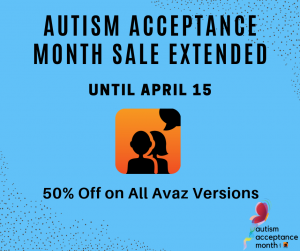 ---
We are extending this discount with:
50% off on all individual app purchases (and in-app purchases)
Valid for purchases on iPad and Android devices
Offer valid until April 15
---
Here are the links to the apps:
Avaz App for Communication (Android)
Do spread the word and help this reach the people it can benefit!
---
Queries?
Want an Avaz demo? Get in touch with our Sales Executive at arbaaz@avazapp.com
Also, our Support team is here to assist. You can get in touch with us 24×7 at support@avazapp.com
Watch this space for more exciting news and offers.